Swedish Painter Lovisa Rönngren, now furthering her Fine Arts studies in Gothenburg, tells us about her journey from Graphic Design to Fine Arts and shares with us memories from her solo exhibition at the LdM Gallery, VIRTUALITY.
Prior to enrolling at LdM, you were working as an illustrator for children's books. How did this, combined with your experience in Florence, inform your more personal projects and artworks? You painted a lot of portraits while studying here, what inspired you to create portraits of people?
I did a few illustration projects after I finished my Bachelor in Graphic Design and Communication in Sweden, and one of these projects was children's illustrations for a booklet series. It was a great experience for me to learn and grow, but to also realize that I wanted to do more than illustration. For me, this period is part of the first few steps up on my art ladder. That's when I started to paint, and move the subject matter towards "reality" and away from the comic book world. My experience in Florence taught me both traditional oil painting techniques and how to expand on my creativity, and all of this information greatly influenced my work. The most common subject in my paintings thus far back then was people, and my interest became more coherent during my time at LdM. Painting portraits is a way for me to connect with people, no matter if I've ever met them physically or only digitally. I'm fascinated with the expressions, the colors and the light and what makes a face. Is likeness important? Maybe I am not just doing portraits of other people, because I don't stay true to their likeness and choose how I want to represent them, so what if they're all really self-portraits? I think there is something quite interesting to it.
During your time here, your work was actively exhibited – you participated in "Art is in the Square", you were in a group show titled Body of Evidence at LdM Gallery and from there were given a solo exhibition titled VIRTUALITY. Tell us about the exhibition process and how that experience was for you.
Being part of an exhibition and also exhibiting by yourself is an amazing experience. There's a big difference in exhibiting with others and by yourself and I feel extremely lucky that I got to know this firsthand. There is a lot more work to it than I at first thought – there is the curatorial process, the marketing aspect, the evaluation and hanging of the works in the assigned space and also being there to answer questions, painting live and seeing to things running smoothly. I had so much fun and can't wait to hold a solo exhibition again. Of course, I also had the best help from one of my teachers, Federico Gori, as well as the LdM marketing team. They did a lot of hard work and I feel incredibly grateful for their assistance. All in all, the solo exhibition was one of the best experiences I had in Florence!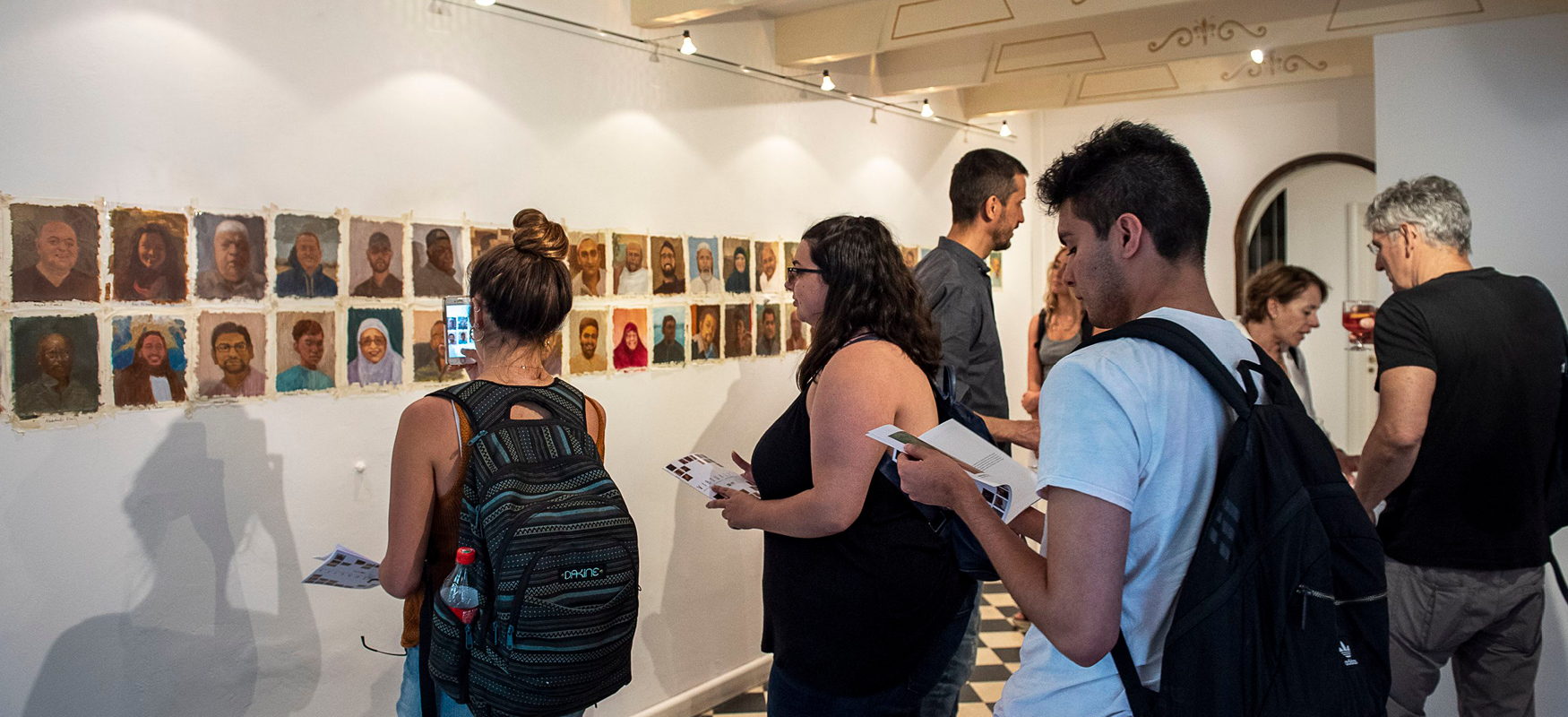 Now you are finishing your studies in Sweden. Do you find that your approach to art changes according to where you are geographically? Are there any projects you're working on that you're particularly excited about?
I am in my first year of studying for a Bachelor in Fine Arts at HDK-Valand in Gothenburg! I do feel that the location affects what kind of work is made, basically due to the cultural surroundings, the institutions and the people. Where I am currently there is a heavy emphasis on theory and conceptual art, which I feel is good for my work since I've focused strongly on the technical aspect of painting for a long time. I also feel that painting as an art form is not very common at my university so it can feel quite lonely at times, I'm not sure however if this is connected to geography or just simply due to what contemporary art at universitets looks like today. But at the same time, there is a traditional Academy close by that started out in Florence and now has a building here. I couldn't think it would ever be the same as actually being in Florence though, because the space and atmosphere is just as important as the teachings in my opinion. Instead of copying Bargues here, if you're in Florence you can visit the David and learn from the actual works of masters. The Uffizi became a sanctum very quickly for me, just like how the gelato at Vivoli became a holy place.
Right now I am working on a series of paintings that focus on dreams and AI. I don't have anything to show yet but I'm excited about it, and I am also hopeful that I'll be able to exhibit them one day.
Thank you, Lovisa. We are looking forward to learning more about your new projects and hope to meet you again in Florence!
Learn more about Lovisa Rönngren's artistic achievements.