Contamin-Azioni – LdM Gallery
FROM JUNE 22 TO JULY 27
OPENING: JUNE 22 AT 5:00 PM
After the opening, the exhibition will stay open until Thursday, June 27
Mon – Wed: 10AM-2PM, Thu: 4-7PM

Special openings: Friday, June 30: 4-7PM
During the week of the special event the opening hours of the gallery will be
Wed, July 19, Thu, July 20, Friday, July 21: 4-7PM and Sat, July 22: 10AM-1PM
Special event: a special event will be held at the LdM Gallery a guided tour through the exhibition in the presence of the artists, on Wednesday July 19, at 5pm.
---
Contamin-Actions
Project curated by Mattia Lapperier
Featuring works of:
Adriana Amoruso
Pietro Desirò
Luca Matti
Leonardo Moretti
Fabio Refosco
Groter Walpius
Gallery Supervisor: Špela Zidar
---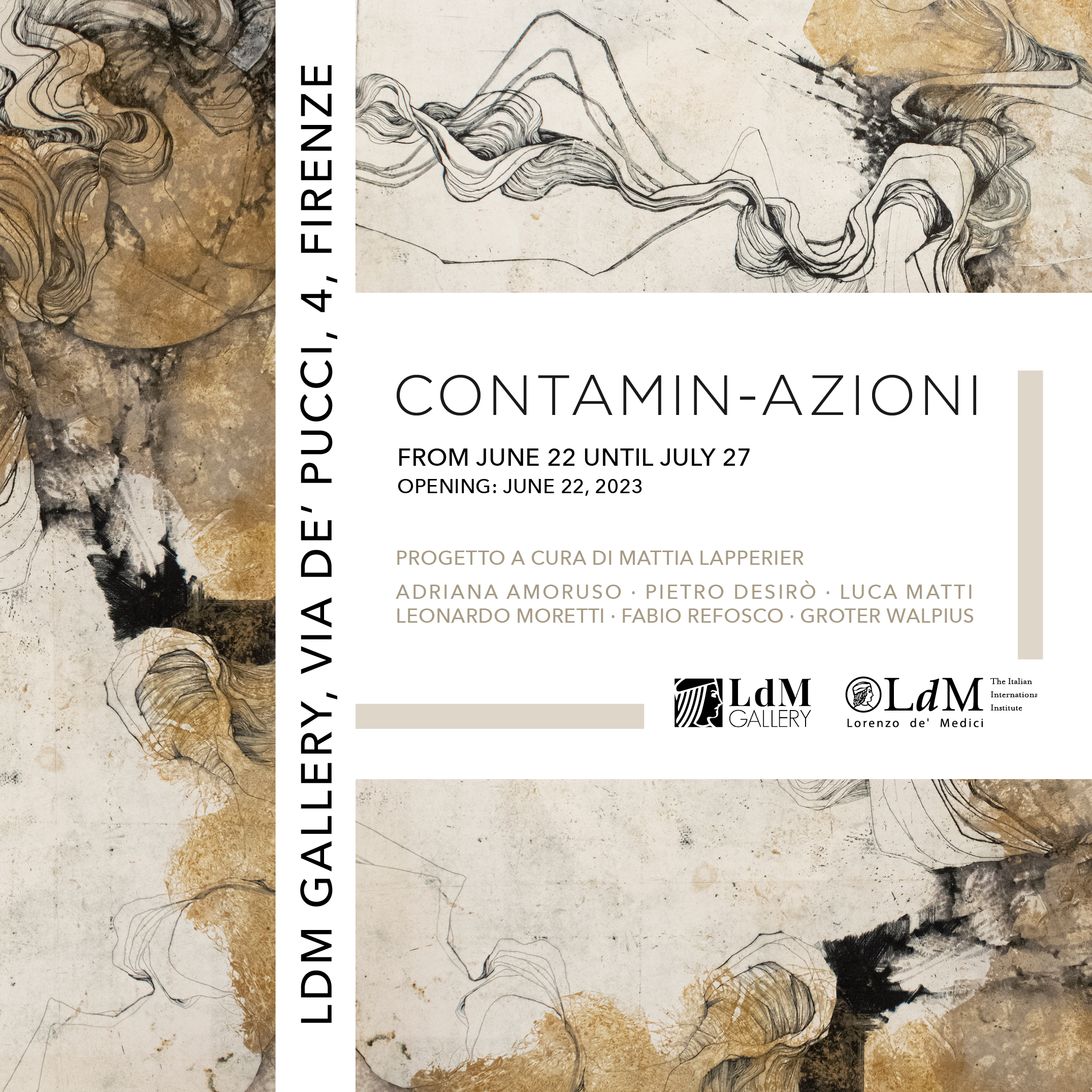 ---
About CONTAMIN-ACTIONS:
The pandemic has radically changed our way of perceiving space. An invisible enemy that spreads like wildfire, fast, insidious, unstoppable, capable of affecting the entire world population, has undermined our certainties, placing the danger – perhaps for the first time in the contemporary era – in the dimension of the imperceptible. Therefore, this exhibition intends to investigate the processes tending to expansion, that aim at affecting space, aggressively, as they were an uncontrollable viral infection. The selected artists research concepts of propagation, emanation, duplication, and germination. The form repeats, remaining unvaried, but at the same time – constantly changing, multiplying, crossing the borders, and generating Contamin-Actions. The project combines the works of six contemporary artists from different generations, backgrounds, and training that use different languages in their practice. What brings them together is the common tendency to research, in their artworks, the expansive processes of organic nature. In the LdM Gallery the artists exhibit paintings, sculptures, and installations, in which the principle of flexibility is pushed to its maximum degree.
During the OPENING:
The contamination does not refer only to the dialogue between the works on display, nor does it consider only the "invasion" of the exhibition space. Some of the artists in the exhibition also include the viewer in the process of growing and expanding their artwork. Fabio Refosco presents a large canvas created between 2019 and 2022, which was the result of a great collective effort, in which all the guests who visited his studio have, even if only minimally, contributed to its realization. In reference to this collaborative project, the artist will propose a participatory action during the exhibition opening , while the  installation by Adirana Amoruso also features shreds of canvas on which the visitor is invited to intervene, which the artist will later act on as well, thus laying the foundations for collective work.
About the ARTISTS:
Adriana Amoruso
Adriana Amoruso (Trani, 1991) graduated in Painting at the Academy of Fine Arts in Florence, the city where she currently lives and works. Her artistic research experiments with various languages which include installation, performance and embroidery. Knotting, weaving, embroidery are all actions that recur in her creative process. Daughter of an embroiderer, her works allow her to reconnect to her roots. Although each of them is self-contained, taken together, the shreds of canvas presented by the artist tell an intimate and introspective story, on which to let one's deepest emotions flow freely and then come together again.
Pietro Desirò
Pietro Desirò (Florence, 1994) trained at the Academy of Fine Arts in Florence and at the Akademie der bildenden  Künste  in Vienna, currently lives and works in Florence. In 2014 he won a scholarship that allowed him to refine the study of graphics at the Il Bisonte Foundation. In 2015, together with other artists, he founded Cartavetra: a gallery/workshop in Florence, where he holds engraving courses and collaborates with other artists in organizing exhibitions and events. He prefers paper as a support for his chalcographic experiments. He usually makes use of mixed techniques that he implements and refines incessantly, a practice that induces him to return to his work, even after some time. Lately he makes use of paper previously subjected to the action of molds and bacteria, on which he intervenes with the sensitivity of an entomologist.
Luca Matti
Luca Matti (Florence, 1964) is a painter and sculptor who lives and works in Florence. For decades he has also been involved in comics, illustration and graphics, collaborating with magazines and publishing houses. Since 1988 he has dedicated himself to painting and the creation of sculptural works in inner tubes, developing a very personal style that places him among the leading artists on the Italian scene. Since 1994 he has focused on the relationship that man has with the city, drastically reducing his color palette to black and white. Over the years he has developed a recognizable iconography of domestic objects and interiors, urban landscapes and figures halfway between man and insect. His work ranges freely between drawing, engraving, painting, video animation and sculpture from inner tubes, tires and rubber. The various languages condition and contaminate each other, giving life to a universe of stories, suggestions, dreams; a sort of uninterrupted black and white fiction that spans over thirty years of activity.
Leonardo Moretti
Leonardo Moretti (Prato, 1991) lives and works in Prato. After graduating in Painting and in Visual Arts and New Expressive Languages, with a specialization in Decoration, both obtained at the Academy of Fine Arts in Florence, he immediately experimented with various mediums with a predilection for painting, photography and installation. Lately he has been focusing on the dynamics that are generated around the varying of objects, when seen and elaborated from different perspectives. From this follows both the propensity to use (and reuse) waste, as well as the exploitation of the expressive potential inherent in the various materials, especially the plastic ones, including Plexiglas. The latest works draw inspiration from lace and are configured as a reflection on superficiality and banality in interpersonal relationships.
Fabio Refosco
Fabio Refosco (Valdagno, 1968) lives and works in Trissino. His artistic research focuses on the gesture, from which he creates form. If in previous works this practice appeared more incisive, at times almost violent, his latest experiments on paper are decidedly more reflective and intimate, resulting from the irreducible dichotomy existing between control and chance. The component of unpredictability unites his works. In fact, none of his gestures ever arises from a tight control over the form; indeed, it is the artist himself who programmatically accepts the accidental component as an integral part of the process. His soap bubbles soaked in ink, leaving an indelible mark on the support from the moment they explode, represent a moment of life, an indelible sign of what remains.
Groter Walpius
Roberto Pelosi (La Spezia, 1977) trained musician and teacher, is known in the artistic field under the pseudonym of Groter Walpius. He began his experiments in the field of visual arts in recent times. He has always been interested in processes, natural or induced. Rusts, with all types of oxidation, musks and cracks have always exercised an irresistible attraction on the artist since his childhood. The artist considers the fragility of things, their mutability, the possibility of changing their appearance over time, authentic added values. He usually works on paper, concrete, wood, tiles, bricks, pieces of plaster or other recycled material with different techniques ranging from watercolor, pastel, pen, acrylic, to spray painting. His works, the result of a long elaboration process, seem to have been attacked by the passage of time; they present themselves as relics of times that have already passed, as if they were the fortuitous surviving witnesses of a journey.
About the CURATOR:
Mattia Lapperier (La Spezia, 1989) is an art historian, independent curator and teacher. Graduated in History and Forms of Visual Arts, Performing Arts and New Media at the University of Pisa, with a master's degree in Management of Artistic and Cultural Events, he collaborates with galleries, museums, independent spaces and cultural associations. His interests range from twentieth-century art to contemporary research. In 2020 he published Luigi Russolo incisore / Catalogo generale delle acqueforti, the catalogs La Via dell'Ambra Reloading, 40 days / Artisti in quarantena and the monograph Antonio Franchi. Sintesi emotive for Vanillaedizioni. among his recent exhibitions: Diagenesi. Scolpire il tempo / Simone Negri – Pietro Capogrosso, Florence, Cartavetra, 2023; Geografie emotive / Leonardo Moretti, Florence, Galleria d'arte La Fonderia, 2022; Toten / Leonardo Bartolini, Kumamoto (Japan), Prefectural Traditional Craft Center, 2022; Retaggi / Flavio T. Petricca – Alfredo Rapetti Mogol, Grosseto, Polo culturale Le Clarisse, 2022; Adriatico / Giorgio Petricca, Paris, Le sentiment des choses, 2022; Dialogo inverso. Orientarsi tra le macerie / Ettore Pinelli – Giorgio Distefano, Florence, Cartavetra, 2022; White Noise / Rose-Mari Torpo, Helsinki, tm galleria, 2021; Dalla terra alla luna / Luca Matti, Florence, C2 Contemporanea, 2021; 40 days. Artisti in quarantena / Massimo Angei – Andrea Bianconi – Andrea Bruschi – Valeria Dardano – Lorenzo De Angelis – Sabino De Nichilo – Giorgio Distefano – Andrea Famà – Giovanni Frangi – Federica Gonnelli – Luca Matti – Federico Montaresi – Leonardo Moretti – Giulio Zanet, Turin, Associazione Quasi Quadro, 2021; Terreni contaminati / Leopoldo innocenti, Florence, Galleria d'arte La Fonderia, 2021; Pitture Necessarie / Isabella Nazzarri, Milan, Spazi Mac Mahon, 2021; La Via dell'Ambra. Reloading / Lolita Timofeeva – Valentinaki, Florence, Palazzo del Pegaso, 2020; In coltura / Leonardo Moretti, Florence, Villa Romana, 2020; Trame plastiche – Oltre la superficie / Victoria DeBlassie – Leonardo Moretti, Florence, SRISA, 2019; Corpi trasparenti / Giada Mazzini, Prato, Palazzo Datini, 2019; Locanda Universo. Omaggio a Wagner / Francesco Vaccarone, Bayreuth, Ausstellungshalle Neues Rathaus, 2019. He lives and works in La Spezia. More information on my projects and research lines on: mattialapperier.it