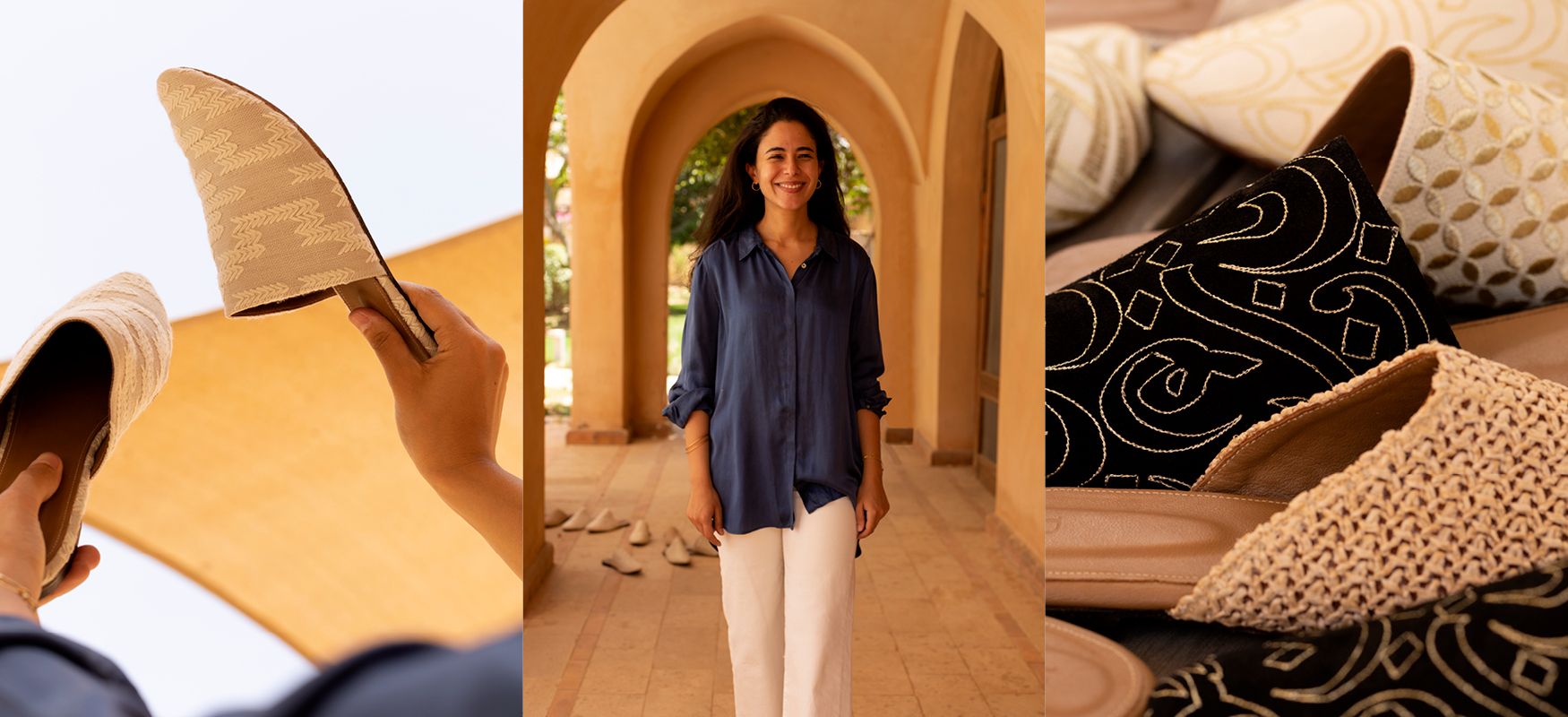 RAMLA, Egyptian fashion brand with an ethical soul, by Reem Alaa Hamed
Reem Alaa Hamed is an Egyptian designer from Cairo, Egypt. In 2017, she founded her footwear brand RAMLA, a lifestyle ethical brand that promotes women's empowerment and encourages the safeguard of ancient artisanal knowledge.
Dear Reem, first of all, thank you for your time! At LdM, we have been following all your successes throughout the years, congratulations! Some years ago, you moved to Florence to attend the Marist-LdM program in Architecture and Interior Design, where you graduated in 2015. What drew you to Florence in the first place? What is your best memory of your time at Istituto Lorenzo de' Medici?
Living in Florence has always been a dream of mine since I was in high school. I used to read about Italy and was interested in its history, culture, and fashion. During summer vacations my parents would always send me to summer camps in Germany since I went to a German school in Cairo, so I was already exposed to traveling alone abroad in Europe. While I was graduating from high-school, I knew I wanted to study Interior Design, yet unfortunately at that time this major did not exist in Cairo. You could either study Art or Engineering Architecture.
So, I decided to study both. I took Engineering Architecture as my major and Art as my minor. However, two years later I decided to pursue my dream and to specialize in Interior design. Therefore, I moved to Florence, to study at LdM, not knowing the Italian language and yet really looking forward to a new experience. LdM was the right choice for me: it was an eye-opening experience, thanks to the variety of its course selection, enthusiastic instructors, a diverse student body, and finally its location in the city of Renaissance.
My best memories as a student at LdM in Florence are getting lost in its small alleys, visiting museums and churches, and traveling on the weekends in Italy, with 3 of my best friends, Christine, Marina and Ale, whom I met at LdM.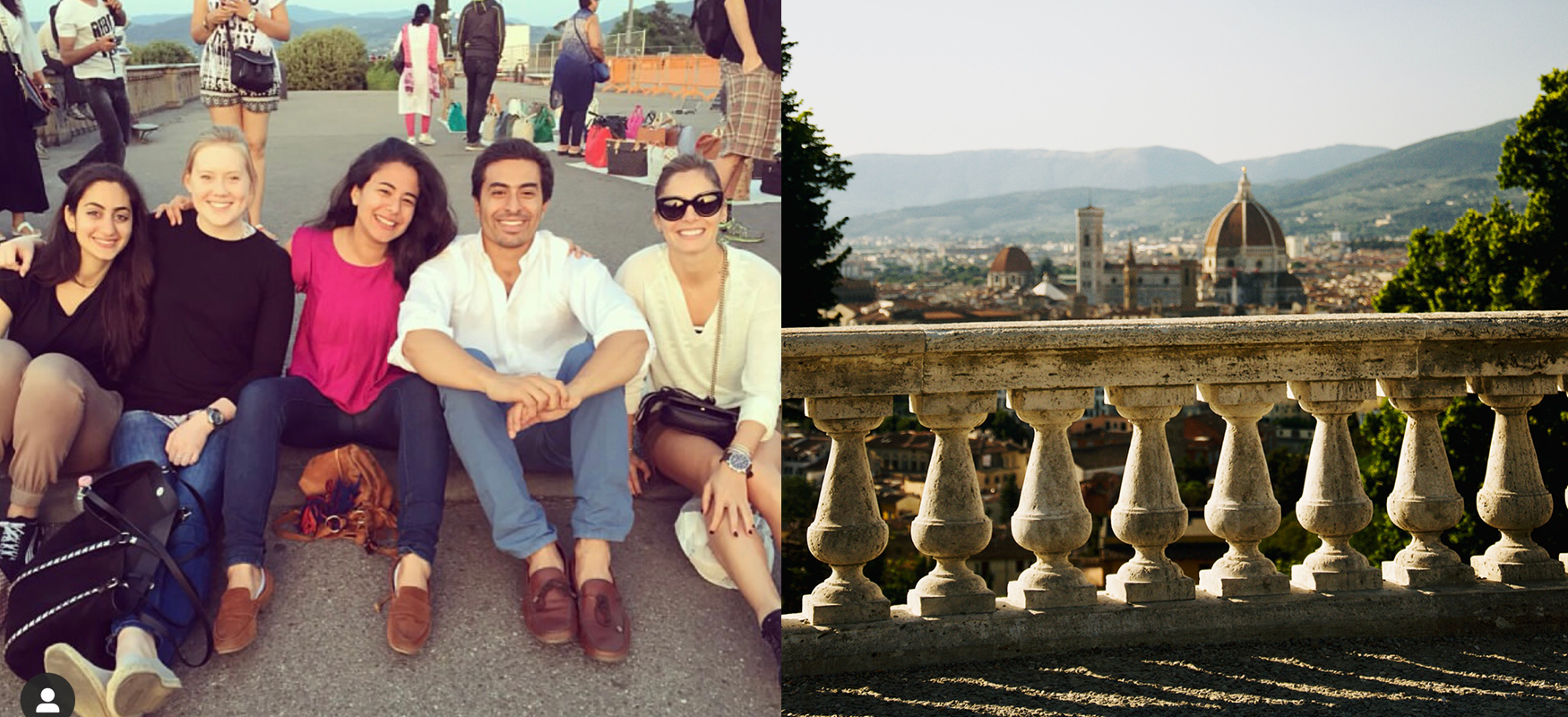 Back in Egypt, you have been working as an Architect and Interior Designer; simultaneously, you created and launched your own footwear brand, RAMLA, entirely produced in Egypt. Can you tell us something about Ramla? What inspired you to create it? How important is architecture in your fashion design creations?
RAMLA started as a hobby after I completed my bachelor's degree in Interior Design and Architecture with LdM-Marist, while I was pursuing my Master's in Luxury Business at a private Fashion school in Florence.
During my studies, I used to make the most out of my weekends to educate myself about the leather and the shoe industry in Florence, by helping in a small leather workshop. I was fascinated by the idea of "Made in Italy" products and the story behind it.
I felt I was ready to explore another fascinating field, that of the "Made in Egypt". After returning to Egypt, I found out that my home country is full of resources and great craftsmanship. Therefore, I merged my studies with the resources available in my country and followed my dream: this was the beginning of my footwear business RAMLA, proudly made in Egypt.
RAMLA officially started operating in June 2017, when I was still working full time as an interior architect. Today, I work as an interior designer and shoemaker, cultivating my two greatest passions. Sometimes it's very hard to manage both! But if you believe in what you do, and if this can help and support your community, I think it is worth it to devote your time and full attention to your passion.
On one hand, having my own business, RAMLA, is incredibly challenging. It requires a lot of risk-taking, sacrifices, and late-night work. On the other hand though, seeing an idea turning into a start-up and now into a real business with responsibilities and commitments is definitely rewarding and still amazes me.
One promise I kept since the beginning of the business is to help my community and revive the fading away craftsmanship and introduce new ones through a comfortable luxuries made in Egypt product, named RAMLA, meaning sand in Arabic.
Now RAMLA is available in 8 different countries with over 11 distribution points around the world, and online presence.
After taking your bachelor's degree in architecture and interior design, you pursued your master's degree in luxury Business, also in Florence. From then on, your passion for architecture and your love for fashion have always gone hand in hand. Do you think the two fields complement each other in your work? Do you bring inspiration from architecture and interior design into your fashion design?
Working as an interior designer has helped me with my business in the fashion business.It put me on a track, in building a structure, system and having the eye for details, choosing material and finding, and appreciating the natural elements. Shadows, nature and texture are definitely 3 key words that connect both fields for me and that I use and rely on when it comes to designing a space for a customer or creating a collection.
We recently saw you on Forbes, congratulations! In this article, you talk about your vision, which is that of women's empowerment and sustainability in the world of fashion. Through your Made in Egypt brand, you also encourage the valorization of the local artisanal and cultural heritage. Can you tell us more about it?
Thank you, it's an honor being featured in Forbes and sharing my experience with the local artisanal.
Personally I believe there is no limitation when it comes to inspiration and design, especially when you are born and raised in Cairo, Egypt. The country is full of artisans and craftsmanship.
In every collection, since I started RAMLA, I try to revive the Egyptian craftsmanship by introducing a new material or a new technique that has been already there but it's starting to fade away, due to the lack of appreciation of heritage and craftsmanship. It is definitely a challenge to produce a top quality product that is 100% manufactured and made with love in Egypt.
I believe, as a young entrepreneur, it is our mission to make the artisans value their handwork and bring awareness, appreciation and motivate them to continue their legacy to inspire the future generations.
As a person with an international academic and professional background, what do you think is the value of international education?
Personally studying abroad has made me a much more independent, self-confident person. I believe you will learn more in your everyday life, especially if you live in Florence, which is the Renaissance art city par excellence. Even if I didn't major in Art, everyday there felt like an art class for me. This I really admired about LdM, that it has all its classes in buildings located in the city center, so in order to get from one class to the other, I had to pass by the Palazzo Vecchio in piazza della Signoria, which is literally an open air museum. It felt like a dream to experience all of this.
Also, what I liked as well at LdM is that all the classes had students of different nationalities. It was both educational and fun getting to know each other, the different culture and language, not to mention the amazing teachers, who are very open and helpful.
Being surrounded by all these great opportunities and people is eye opening, it will help you in the future to understand yourself better and to get to know what you really want to do.
In my case, it was my first time to travel to Italy at the age of 21, I didn't know anyone, nor the language, but I had an open mind attitude, hungry for knowledge and wanting to make the best out of this experience, as I truly believe it's a once in a lifetime opportunity. And it is really a life -changing experience, that I am truly grateful for and had my best days as a student.
I remember on my very first week I met my now very close friends Christine, Marina and Ale. The four of us come from four different countries. We used to travel every weekend and on holiday only in Italy, eager to know the country by bits and pieces and its culture and heritage. This is what I would call knowledge and self education, understanding where you live and making the best out of it. Therefore I learned all about the Italian craftsmanship and the "Made in Italy " that helped me to understand and build my own Made in Egypt version.
I believe it does matter what you choose as a major that will help you build your future, but also to have an open mind to get to know different people and different nationalities from all around the world.
Personal advice for all the new students: Be curious about anything new. Make the best of this time, it's a once in a lifetime experience!