Summer Sessions 2021 Costs
The following cost information applies to the LdM Florence and Tuscania Summer Sessions 2021. For the Summer Certificate Program costs, please click here.
Costs are dependent upon site, session, program/course, and housing selection. Please be sure to read carefully all conditions regarding your selections.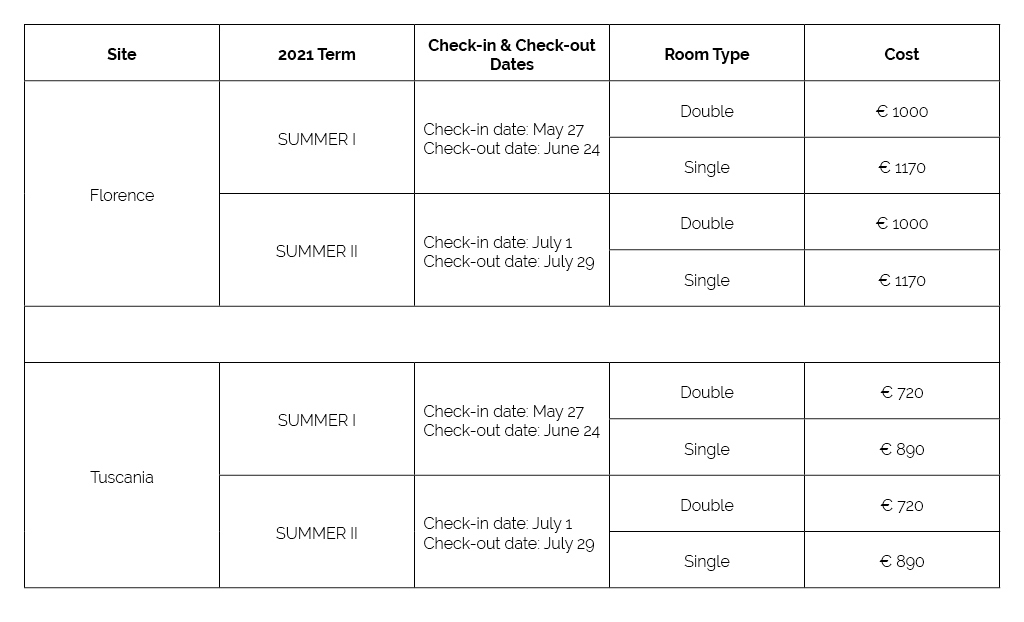 Please note: a €250 housing safety deposit is to be added and will be refunded to students after the end of the term if no damages are found to the apartment.
Students who stay for BOTH summer sessions (June and July) will receive housing at no extra cost during the break between the two summer sessions, even if the students are attending the LdM program in two different cities. In this case, the students will spend the break always in Florence.
---
About LdM Apartments
All apartments are fully furnished and come with bed linens, towels, pots and pans, kitchen utensils, basic appliances, washing machine, TV and are equipped with Wi-Fi. They do not come with a phone or air conditioning and all units are NON-SMOKING.
Students should take note that apartments in Italy, especially in the historic centers, are in antique buildings, and therefore no apartment is alike. Although LdM maintains a standard, there are differences in appearance, general condition, and travel time from the institute.
Due to the number of students and the style of buildings, student housing is set throughout the city of Florence.

Apartments are within walking distance of the school and easily reachable by public transportation.

The shared apartments are non-coed.

The standard apartment bedrooms are double with two single beds in the same room.

Single rooms consisting of a single bed in one room in a student-shared apartment are limited.
Students are not able to choose their apartment or change roommates. Any roommate request must be specified on the housing agreement form prior to arrival. If a room request cannot be honored due to space limitations, accommodations are assigned according to availability.
The rent period begins on Housing Check-In Day and ends on Housing Check-Out Day.
LdM Apartment housing includes:
Rent, with fixed check-in and check-out dates as specified

Repairs that are not caused by students

Average Utilities (water, gas, electricity). Any above average consumption costs are subtracted from the housing deposit and split amongst the students in the same apartment

Internet connection

During the session one apartment cleaning
LdM Apartment Housing does not include:
Meals

Damage(s) caused by students, extra cleaning and excessive consumption of utilities. Please see the specific details on the check-out procedure form
LdM housing services may differ between campuses.
For further information, please check the specific campus.
---
Rental Period Deadlines

Summer I May 15
Summer II June 10
---
Reservation Procedures For Shared Apartments
Once students have been accepted to their LdM program, they will be sent the LdM Housing Booklet and forms required by their program. They should then follow these four easy steps below to reserve LdM Housing at each campus.
Step 1

Students are required to submit the following documentation before housing can be reserved:
A completed and signed Housing Request Form and Personal Profile

Housing Rules completed and signed (hand written signature)

Proof of the full housing payment ( Housing deposit + rent )

A copy of the student's passport (photo page)
Step 2
The following documents are required no later than 30 days before the student's arrival date:
A Copy of the student's visa (only if necessary), that has to be requested at the Italian Embassy of your citizen home country.

Detailed travel itinerary (from the place of departure to the destination. It is MANDATORY to provide your travel itinerary to LdM. Please take into consideration that students may be subjected to a two week quarantine if it will be still required from the Italian government regulations ; In case of quarantine obligation, the students who will attend the Tuscania program must fly directly to the Rome Fiumicino International Airport (FCO). Students who will attend the Florence program must first fly directly to the Rome Fiumicino International Airport (FCO) and then to the Florence Peretola Airport (FLR) as it won't be allowed to take any public transportation (e.g. train, bus, subway).
*Be aware that some airlines may offer Covid free flights, highly recommended as transit on Italian territory is allowed, without the need, to comply with the obligations of health surveillance and fiduciary isolation,that would allow passengers also to take public transportation. ( Take into consideration that only passengers who test negative for Covid-19 are allowed to board, after having carried out an antigen test taken via swab within 48 hours of boarding. Upon arrival at the airport, passengers are required to undergo an antigen test.
IMPORTANT NOTE: Please be aware that all students have to arrive at the check in place within and no later than 4:00/4:30 pm on the check in day so please take into consideration when you buy your plane ticket.
Step 3
LdM will confirm receipt of the full housing payment by email, and will then proceed to arrange housing for the student.
Step 4
About a week before the beginning of the term, the LdM Housing Office will provide the student via email with:
Apartment address, specifying roommates and apartment-mates

Information regarding Housing Check-In
---
Home stay option
Home stay will not be offered during the 2021 Summer sessions
Students interested in other housing options should contact [email protected]
SUMMER 2021 TUITION CANCELLATION POLICY
If an official cancellation notice is received by LdM:
20 days or more before the start of the term, the student will be liable for 20% of the tuition cost.

19 to 7 days before the start of the term, the student will be liable for 30% of the tuition cost.

6 days to the beginning of the term, the student will be liable for 50%of the tuition cost.

After classes start, no refund will be due to students who do not attend or who withdraw from LdM.

Depending on the Covid-19 pandemic evolution and consequent Covid-19 related Institutional and/or Government regulations onsite, students will transition to the distance learning model or hybrid model onsite and will not be eligible for a tuition refund.
---
Summer 2021 Housing Cancellation Policy
IF AN OFFICIAL CANCELLATION NOTICE IS RECEIVED BY LdM *
If a student cancels 45 days or MORE prior to the Housing Check-In date, the €250 security deposit and full housing rent will be refunded.
If a student cancels 30-15 days preceding the Housing Check-In date, the student will lose the €250 security deposit but will be refunded the full housing rent.
If a student cancels 14-8 days preceding the Housing Check-In date, the student is liable for the €250 security deposit and 50% of the full housing rent for the accommodation for the entire academic term.
If a student cancels 7-0 days before Housing Check-In, or fails to check in to his or her assigned LdM Housing, the student will be liable for €250 security deposit and the full housing rent.
The student will be fully liable for the full housing rent and €250 security deposit if no official notice of the student's cancellation is received by LdM before Housing Check-In.
*The LdM Summer 2021 Housing Cancellation Policy allows for a later cancellation than the standard pre-COVID policy. Given the costs paid to external housing providers on behalf of the students are non-recoverable, refunds beyond those outlined above are not possible, regardless of reason (including but not limited to those related to COVID